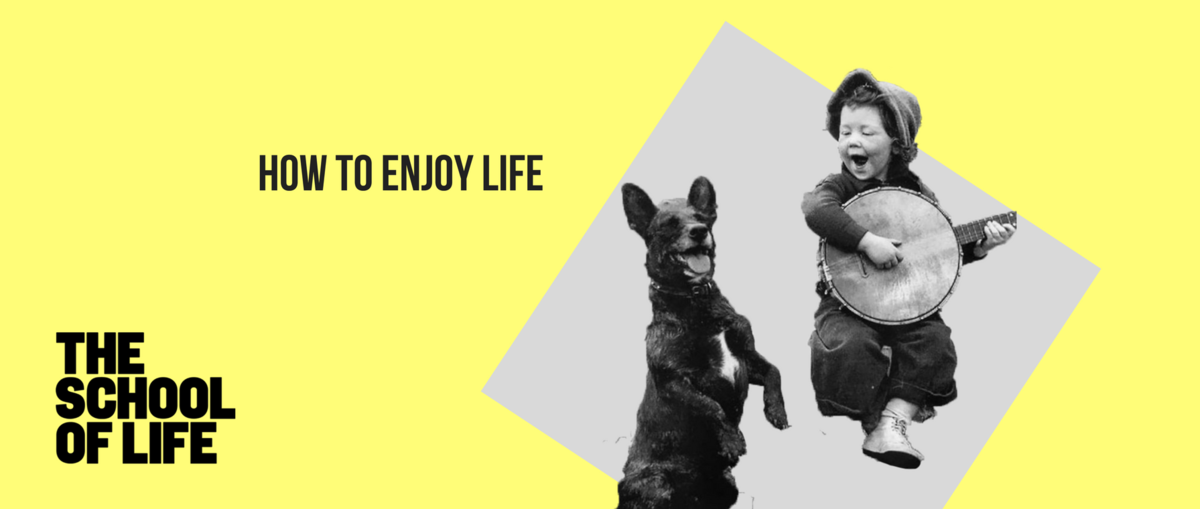 Dissatisfaction and desire are central to our lives and have a deep value and importance. But there is also crucial value in knowing how to appreciate what we have - in learning how to feel grateful for what is already to hand.

How to Enjoy Life teaches us:
The skills of appreciation and gratitude.

How little we sometimes notice what is around us.

How to awaken ourselves to the beauty and value of the things, people and ideas with which we are surrounded.

How to properly absorb what is already precious in our lives.

The art of sampling happiness without being sentimental or deluded - a skill we term 'cheerful despair'.

This class is a tool of re-enchantment. We are nudged into seeing how neglectful we can be of many phenomena that lack social prestige, not because we are bad or lazy, but because we are up against enormous obstacles to proper appreciation.

Drawing especially on art and literature, the class gently and wisely encourages us to make more of what we have.

How to Enjoy Life is one of the twelve classes that comprise our core curriculum. Our classes tackle the core themes of emotional life, from relationships and the workplace, to understanding the self and exploring our relationship with culture.

This class is in a sequence with How Culture Can Change Your Life and The Meaning of Life which together cover The School of Life's ideas on culture.

【Reading】
The Book of Life: FOMO: Fear of Missing Out
http://www.thebookoflife.org/fear-of-missing-out/
【Information】
Date:2018 / 06 / 13 (WED.) 19:00 - 21:30
Location:The School of Life Taipei
Language:English
Attendance:30
【Faculty】


Jeremy Beacock
An English Literature graduate from the University of Cambridge, Jeremy is a practicing poet. Having cultivated a life-long interest in philosophy and literature, Jeremy is well equipped, with his in-depth knowledge of the European canon, to help people find paths through the challenges in their lives.

Jeremy hopes to combine his aptitude as an artist and passion for philosophy to help you find new ways of reflecting on your life.As a seasoned teacher, he is an experienced trainer and instructor currently working at The British Council (Taipei) –responsible both for in-house teacher training and teaching adults English as a second language.

In his spare time, Jeremy enjoys martial arts and regularly recites poetry at the Red Room – a platform for artists and cultural events in Taipei.
---
You will receive a confirmation email after you have signed up and done the payment. If you have any questions or queries regarding your order, please call on 7728 7680, email us at taipei@theschooloflife.com, or alternatively send us a message via our Facebook fan's page.
Return/Exchange Policy
KKTIX is our ticketing system and any returns will be done through it. If for any reason you are unable to use your tickets, we offer a flexible exchange service. If you have this need, please contact The School of Life Taipei.

If you want to cancel the registration, there is an admission fee of 10% of ticket value for all ticket return services. Tickets will not be refunded when the return request is raised less than 10 days before the event.

For further details regarding return and exchange, please see KKTIX's policy.