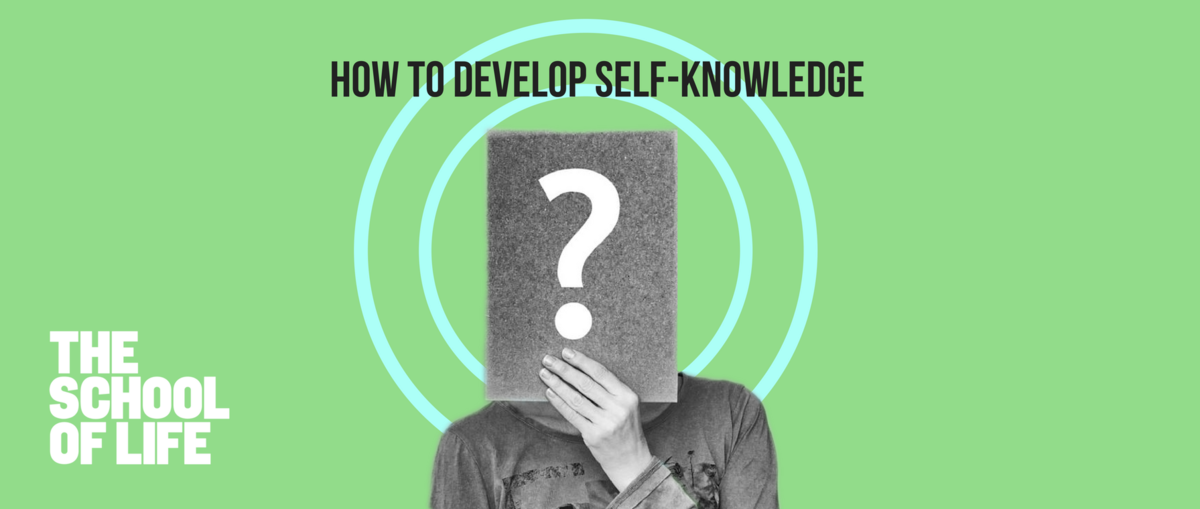 In Ancient Greece, when the philosopher Socrates was asked to sum up what all philosophical commandments could be reduced to, he replied: 'Know yourself.'
Self-knowledge matters so much because it is only on the basis of an accurate sense of who we are that we can make reliable decisions - particularly around love and work.
Unfortunately, self-awareness is devilishly hard to acquire. Our minds are hugely skilled at hiding the truth about ourselves from our conscious grasp. We start off as children fathoming very little of who we might be, and then must spend a share of our adult lives attempting to understand the often garbled legacy of childhood.
How to Develop Self-Knowledge teaches us:
Techniques to explore our own minds.

How to clarify vague and almost-out-of-reach emotions and thoughts.

How to understand the emotional dynamics of childhood.

How we appear to others.

What we are perhaps not easily able to see about ourselves.



We realise the extent to which our minds are squeamish about ideas that challenge our existing comfortable view of ourselves - and acquire tools that combat the tendency to avoid important insights into who we really are.
How to Develop Self-Knowledge takes us on one of the most exciting journeys: into our deepest, most elusive selves. We come away armed with a newly clarified sense of the distinctive nature of our personalities, what we need to watch out for and what our priorities and potential might be.

【Reading】
The Book of Life: Know Yourself
http://www.thebookoflife.org/know-yourself/
【Information】
Date:2018 / 03 / 28 (WED.) 18:45 - 21:30
Location:The School of Life Taipei
Language:English
Attendance:30
【Faculty】


Kerry Nockolds
Kerry, originally from London, has been based in Taiwan for over 20 years, having always been involved in education and learning during this time.
With a love of teaching and a lifetime love of learning, he has attained a Degree in Economics, a Degree in Chinese, a Dip TESOL Level 7 Licentiate Diploma, and is also a Certified Oxford Teacher's Academy trainer from his time working for Oxford University Press. Leadership and mentor roles have been important in his career in the positions of Principal and then Managing Director at Shane English Schools Taiwan, and also in his present post as Director of Educational Services at the prestigious Taipei European School.
His other main passion in his life, apart from his family, is golf. He is able to combine his love of playing and teaching, by having qualified as a USGTF certified professional golf coach and share his knowledge and passion for the game with his students. A lot can be learnt about your emotional intelligence from how you manage yourself on a golf course! Kerry and his daughter have a YouTube channel "Learn golf with Cassie" that shows the struggles of learning and improving at something that is not easy.
Kerry loves to work with The School of Life, as the challenges faced by us all keep changing and the traditional educational approach does not cater for these real-life issues/struggles/complexities in a focused way, and so the assistance of thinking about life in ways that we don't usually consider, offers us more options on how we conduct our lives.
---
You will receive a confirmation email after you have signed up and done the payment. If you have any questions or queries regarding your order, please call on 7728 7680, email us at taipei@theschooloflife.com, or alternatively send us a message via our Facebook fan's page.
Return/Exchange Policy
KKTIX is our ticketing system and any returns will be done through it. If for any reason you are unable to use your tickets, we offer a flexible exchange service. If you have this need, please contact The School of Life Taipei.

If you want to cancel the registration, there is an admission fee of 10% of ticket value for all ticket return services. Tickets will not be refunded when the return request is raised less than 10 days before the event.

For further details regarding return and exchange, please see KKTIX's policy.